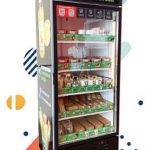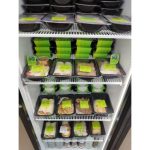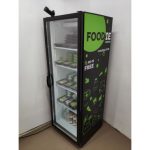 Total investment:
$ 950
Franchise fee:
$
Royality fee:
Monthly marketing payment :
$ 0
Revenue:
$
12 000

*

* Calculator calculations are provisional, not guaranteed
MAIN INFORMATION
Foundatoin year: 2018
Year of franchising: 2020
Company units: 3
Franchise units: 1
Total number of units: 4
Number of employees per unit: 0
Contract period: 60 month
Technological way of fresh ready-made food deliveries to the office, business center or any other institution. Every morning ready-made dishes are brought to the kiosk-fridge – Briskly micromarket, which works through the application of the technology «Scan&GO».
The client opens the door of the Briskly fridge via the application, chooses the needed product and pays by scanning the barcode. Business advantages:
Not high investment, short payback period.
Briskly micromarket works around the clock, on weekends and holidays.
Small trade area.
No investment in warehouse and manufacturing premises.
Briskly micromarket runs financial accounting using the app.
There are no sellers in this business, and therefore, there are no risks of incompetent maintenance, Briskly fridge is a seller itself.
No high investments in advertising. You just install Briskly fridges in recommended places, and they begin to work.
Three main components of Briskly fridge:
Electronic lock control unit.
Communication module that connects the entire system to the application.
A cam which is recording what is being taken. Access through the app around the clock.
Unlocking the fridge and payment for goods via smartphone.
Profitable acquiring and sending checks to the FDO and to the buyer's mail.
The surveillance camera recording every purchase.
Fridge capacity is two times more than competitors`.
Selling own products or ready-made solutions from our suppliers.
FRANCHISE PACKETS BRISKLY
We offer two ways of installing Briskly micromarket
Integration of the system into your fridge
Investments from $950
Connection to the app B-Pay
Integration of your assortment
Installing the lock on your fridge
Temperature, humidity sensors
Surveillance camera
From three fridges
Installing the vending kiosk on a turn-key basis
Investments from $1,770
We provide our fridge
Connecting to the app B-Pay
Integration of your assortment
Temperature, humidity sensors
Surveillance Camera
From three fridges. Other current payments: none
---
Gleb Kharitonov
Founder / CEO
Languages:
CONTACT US AND TELL US HOW CAN WE ASSIST YOU